June 26, 2020
The Agency.io Responds to COVID-19, Keeps Clients, Teammates, and Community Protected
COVID-19 has changed the world. We've been hit hard here in Barcelona, and the ensuing lockdowns have taken a toll on businesses across the city, country, and the world. We've made changes to ensure that our clients, our team, and our community our protected and that business goes on safely.
Before the lockdown, we worked exclusively from the office. Remote work was not an option, as we have always encouraged teamwork in an open space, arranged ad hoc trainings, daily follow ups, and shadowing. We redistributed budget and employees to the areas bringing in income, rather than reducing staff or cutting investments. On the contrary, we shifted budget to Media and Advertising, considering these areas as keys for the new strategy and contention plan. This has allowed our business to grow, and our staff not to be cut.
We've made other changes too. Every Friday, we used to take the afternoon off and all go to the bar next door or go somewhere to do activities. Now, we have switched this to Google Hangouts where we all chat and help one another through this time, as we considered this crucial for the team. Although we rarely changed schedules from the beginning, we readapted timetables considering the personal challenges imposed by this situation.
Some of the staff were away in their home countries when the quarantine started, so they were offered alternatives to facilitate their work and interfere as minimally as possible with the team's dynamic. Besides time-related cases, we also thought that being more considerate with personal matters (religion, culture, health) would benefit performance and wellness, so we decided to implement schedules based on objectives and stages, and give staff the opportunity to give feedback and to share projects between departments. The results proved to be the correct decision.
Considering the kind of industry we work in and the importance of supporting surrounding businesses, we decided to offer marketing support and consultancy to local companies for free, by organizing a campaign to find the most affected ones (most of them related to Tourism and Services) and we worked together to break through the lockdown situation.
We also initiated different collaborations between magazines and online entrepreneurs and built alliances with local press, who offered support to both us and the companies selected in the campaign. We've been praised for our work, most notably maintaining a perfect 5.0-star average on B2B reviews platform Clutch, and its sister site The Manifest, which helps clients find business partners.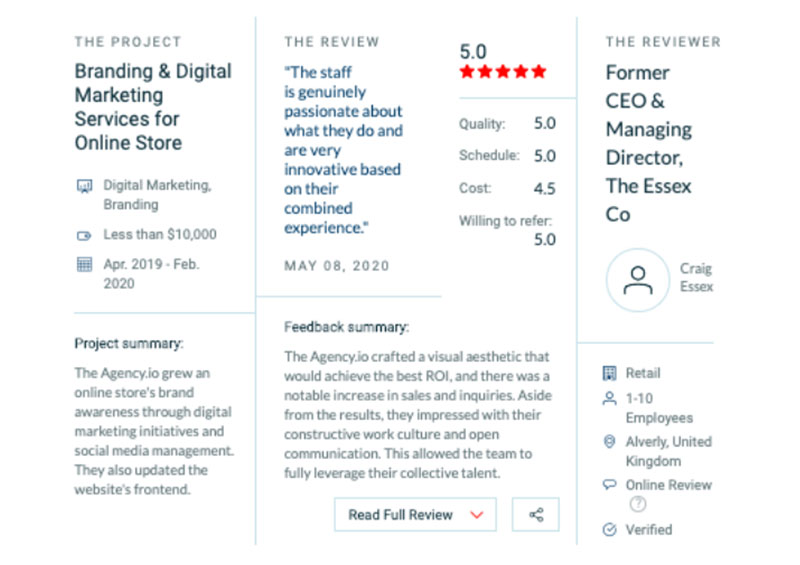 In a recent perfect 5.0-star review, the business development director of a tourism company praised our digital marketing efforts, calling our professionalism impressive. We're incredibly grateful to our many satisfied clients, our team, and our community. If you want to see how we can help you, please contact us today!