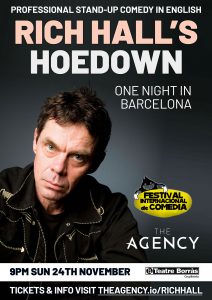 Rich Hall, possibly the grouchiest comedian on the planet, was the original inspiration behind Matt Groening's character Moe Szyslak from The Simpsons – but that's just one of many good reasons to go see him.  His critically acclaimed deadpan style has established him as a master of absurdist irony and the king of rapid-fire wit. The Perrier Award-winning Montana native is renowned for his expertly crafted tirades, quick fire banter with audiences and delightful musical sequences. 
Rich is a comedian whose plain spoken growling indignation and acerbic observations have an unerring talent for hitting his targets with precision every time, leaving his audience hanging on every word and winning him fans all over the globe.
Join Rich at his foot-stomping Hoedown for a mash-up of music, comedy and gratuitous coloration. If you are a Rich Hall fan, this is the show for you. The floor will reek of liquor and spent dreams. This is Rich doing what he loves best – singing funny country songs, often improvised, for the entire night.